The primary purpose of roof tiles is to protect the housing structure from rainwaters, strong winds, and hot temperatures. They are durable and look aesthetic. Has a very long life that can last up to 100 years. The most common type of roofing material since ancient times has been red clay. They are abundant and naturally occurring. Molded red clay is burned in a furnace at a high temperature to make these tiles. They are manufactured in several shapes and colors. Traditionally, tiles are made of slate or fire clay. But nowadays they are also made from concrete. They can come in many shapes like curved, fluted, flat, or interlocking.
Types of Clay Roof Tiles
Structural clay roof tiles.
Concrete roof tiles.
Ceramic roof tiles.
Polymeric roof tiles.
Slate Roof Tiles.
Pantile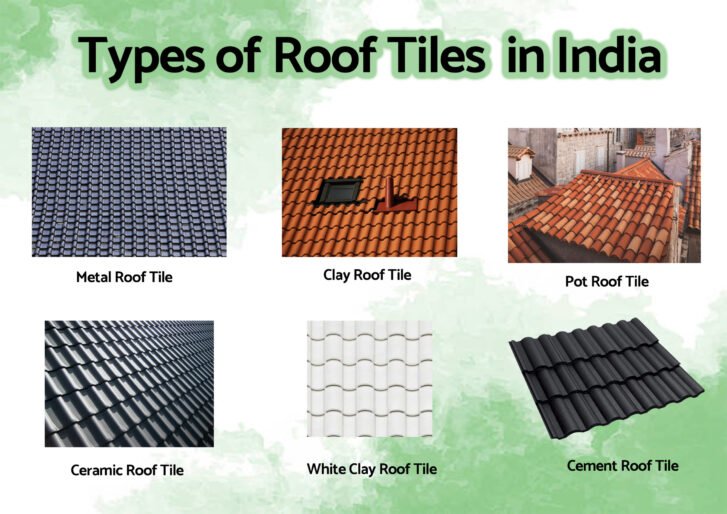 Overview on the Benefits of Clay Tile
Clay tiles are a premier roofing solution. It offers several benefits as an aesthetic and structural component of a building. Clay tiles come in a wide range of aesthetic profiles and colours, offering residential and commercial property owners several roofing options. These numerous options enable widespread use across various building types.
1. Performance Benefits
Clay tile's long-lasting ability even outperforms other roofing materials. A 2007 study on the Life Expectancy of Home Components, done by the National Association of Homebuilders (NAHB) found the average lifespan of a clay roof tile is 75 years, further establishing its durability.
2. Low Maintenance
The cost of maintenance for clay tile roofing is very low. It can be easily repaired in rare cases of damage. Only the damaged portion requires repair instead of replacing the entire roof due to its unique installation. This type of roofing is ideal for owners who are interested in a product that requires little maintenance throughout its life.
3. Efficient Ventilation
Clay tiles are engineered for greater airflow between the tiles and the roof deck. This enhances the insulating capacities of the roof. As airflow increases the heat absorbed by the roof is eliminated before getting absorbed into the building envelope. Hot air is directed above the deck and expelled through the ridge of the roof. Through this, good ventilation is maintained in the interiors of the structure.

4. Cool roofing and Energy Efficiency
Clay roofing tiles are also known as cool roof tiles because they incorporate temperature-adjusting qualities with high energy efficiency.
Clay tile, especially terracotta or light earth tone colors, have a high solar reflectance index (SRI) – a measurement for reduced heat transfer. This reduces the amount of heat that is absorbed into the structure.
High thermal emittance is another quality of clay tiles. A high thermal emittance indicates that the tile is successfully radiating absorbed solar heat away from the structure rather than transferring it inside the building envelope.
These 3 roof characteristics – solar reflectance, thermal emittance, and airflow – make the interior of the structure cooler and minimize the need to air-condition the structure. This reduces energy consumption and increases energy savings throughout the lifespan of the clay tile roof.
5. Raw Material
Clay tile is made of naturally occurring materials which are abundantly found throughout India. The clay which is used to manufacture the tile is locally sourced and extracted close to the manufacturing plants, dramatically reducing the environmental impact of transportation and fuel required to transport goods from the source to the facility. Additionally, a major portion of the by-products which is obtained during the manufacturing of the clay tiles is recycled, further minimizing environmental impact.
Manufacturing Process of Clay Tile
Once all raw materials are sourced, they will enter the manufacturing process. All materials are mixed. Sand, different types of clay and scrap are combined, and the mixture is then put into a hopper to be ground. After that, the material is passed through sieves to obtain the desired and consistent particle size. Thoroughly sieved materials are then separated and molded into various profile shapes.
When cut, the tiles are prepped to be fired in a furnace. Once it is properly burnt, we get the desired clay tile.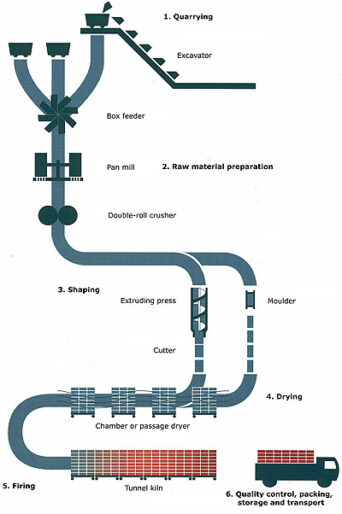 Step 1: Quarrying
Quarrying is the process of removing rock, sand, gravel, or other minerals from the ground to use them to produce materials for construction or other uses. So, a quarry is any such work on the surface of the earth where minerals are extracted.
Step 2: Raw Material Preparation
The raw materials extracted from the quarry are put, crushed, and mixed to form a clay body that enables the shaping of the product. Dosing is ensured by regulated box feeders and products are conveyed by belt conveyors to weighing stations where various products are conditioned. Grinding and mixing of raw materials can be done in a dry line using a pan mill or a wet line using a roller mill.
Step 3: Shaping
These shapes are developed in three sequential processes: extrusion, molding, or pressing. These processes are said to transform the clay material into its intended form.
Simply put, a ceramic extruder is a mechanical device that forces clay into a column under pressure, a simple machine. The base of the pillar has a shape called a cube. The force of the lever pushes the clay out of the mold and extrudes a specific clay shape.
Step 4: Drying
Molded clay products are dried to remove moisture and placed in a kiln for firing. High-temperature firing provides products with superior properties, durability, and longevity.
Step 5: Firing
The industry has made significant expenditures to limit energy consumption and CO2 emissions since drying and burning are the two most energy-intensive production phases. The most significant advancements relate to the creation of dryers and kilns with superior designs, the recuperation of surplus heat from kilns, the use of high-speed burners, and the automated management of drying and fire regimes. The improvement of the energy mix has led to further carbon reductions. Most often, natural gas has taken the role of less green energy sources like biomass and more carbon-intensive fossil fuels like coal and oil.
Packaging and Storage
After the baking is finished and cooled, it is packed and ready for shipping. This process is subject to strict quality control at all stages of manufacturing.
Conclusion
Clay tile has been used for construction for a very long time. Clay tile offers both performance and popularity, and it is used all over the world for many different property types and geographical areas. The product's modern evolution has broadened its appeal, improved sustainability standards, and increased its roofing lifespan.
When you add up the benefits of energy efficiency, local sourcing, cost savings, regional manufacturing, and environmental appeal, clay tile represents one of the best roofing materials available in the market today.