Tiles are unit area skinny objects, typically are in square or rectangular form. A tile may be a factory-made piece of hard-wearing materials like ceramic, stone, metal, baked clay, glass. They are typically used for covering roofs, floors, walls, or alternative objects like tabletops. Tiles are also made up of lightweight material like perlite, wood, and mineral wool which can be used in wall and ceiling purposes.
TYPES OF TILES BASED ON MATERIALS AND WORKMANSHIP
TYPES OF TILES BASED ON ITS APPLICATION
LARGEST TILES COMPANY IN INDIA
TYPES OF TILES BASED ON MATERIALS AND WORKMANSHIP
1. Ceramic Tile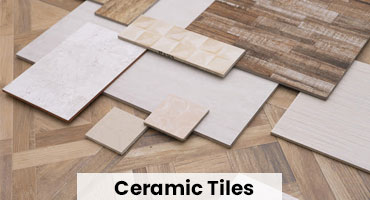 Ceramic tile is a common type of tile that is mostly found in homes. Since this type of tile is highly durable hence is perfect for use in all types of rooms in the house like kitchens, bathrooms, and entryways. It is very easy to install, to clean, and is available in a variety of styles that can be fitted in any design. The price of this type of tiles is not that high and comes within the budget.
2. Porcelain Tile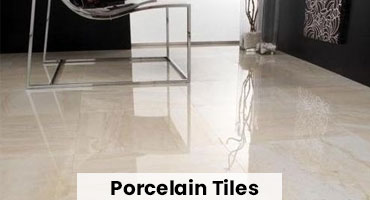 Porcelain tile is another most common type of tile which is different from ceramic tile. This type of tile emulates natural stone, brick, and wood without any maintenance. It has availability in a range of designs, colors, and styles. Since this type of tiles does not freeze, fade, or crack it can be used even outdoors. Porcelain tiles can also be used in the bath or kitchen tiles, high traffic areas, and even in kitchen backsplashes. One of the biggest drawbacks of porcelain tile is that the installation is somewhat tricky.
3. Glass Tile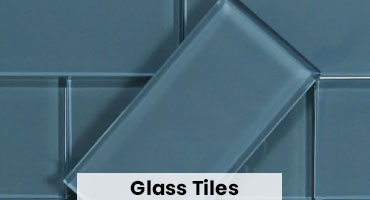 The glass tile is having stain resistance property which makes it an alternative to natural stone. With the help of this tile red wine and acidic foods like lemon and vinegar can be wiped up without leaving any permanent stains. As glass tiles are chip along the edges hence are not recommended for use in high traffic areas like kitchen and bathroom floors. But are used in less traction such as tabletops or desks, around the fireplace, or as the backsplash.
4. Cement Tile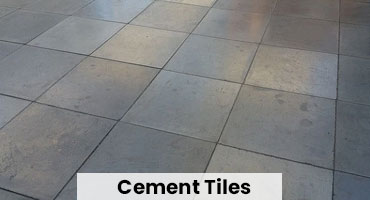 Cement tile has been used extensively for decades and currently used widely in modern interior design. Cement tiles are very versatile and hence provides a wide range of colors and patterns. Since these types of tiles are highly porous, a patina develops over time in order to enhance the pattern. Cement tiles are also sanded and resealed like wood floors as they get discolored over time. The biggest drawback of cement tile is they are beast to lay. In addition, cement must be resealed once a month so as to maintain its beauty. This type of tile is best for use in low -traffic areas and that too in small quantities.
5. Marble Tile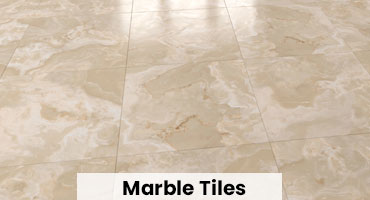 Despite marble tile being costly they are used for adding elegance and refinement to any room. If you are looking to add beauty to your kitchen or bath, marble tile is the best option. It is also responsible for adding texture and depth. Like the other tiles, marble tiles are also susceptible to scratches and stains and are also difficult to clean.
6. Mosaic Tile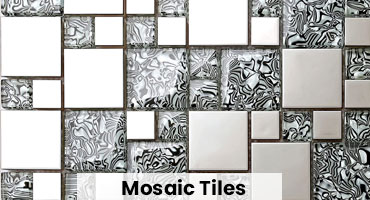 Mosaic tile is widely used for unique and creative interior designs as it is available in a variety of shapes, sizes, colors, styles, and materials. When an accent is needed mosaic tiles are extensively used in-wall applications.
7. Granite Tile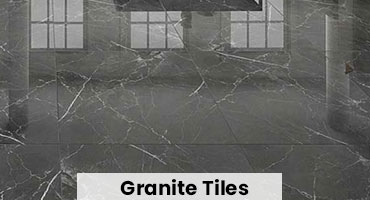 Granite is a natural stone having similarity in appearance and feel to marble but still, there are some notable differences. Granite tile is extensively used due to its availability at a lower price. These tiles are used in a laundry room and other spaces where we need performance but in lower cost
8. Limestone tile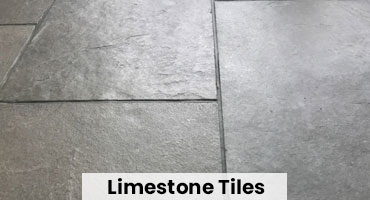 Limestone is one of the other types of natural stone tile. This type of tile delivers a natural appearance which is required for ancient architecture and design. Due to their high durability and softness, these are also easy to shape and cut down for some of the specific patterns and placements.
9. Travertine tile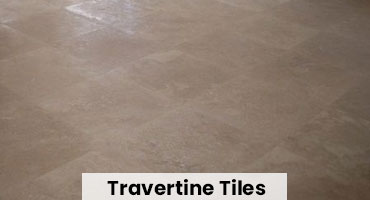 Similar to limestone travertine tile offers a natural kind of aesthetic. Since it is easily affected by water, stains, and traction hence this tile requires extra maintenance and also resealing once in a decade. It is highly recommended to use such tiles in low traffic areas of the home. Designers used to apply these tiles on walls despite floors so as to avoid scratches, etching, or stains.
10. Quarry Tile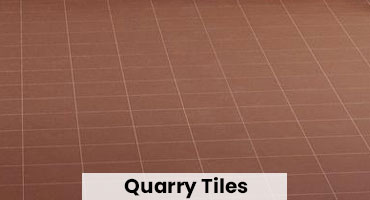 Quarry tiles are made up of ground materials that are similar to but technically stronger than brick. Ground materials include feldspar, clay, and shale which are 1st grounded together and then are baked at above 2000 degrees. As these types of tiles are fired at a very high temperature, they are dense, nonporous, water-resistant, and also have a lower water absorption rate. They also do not require to be sealed.
11. Metal Tile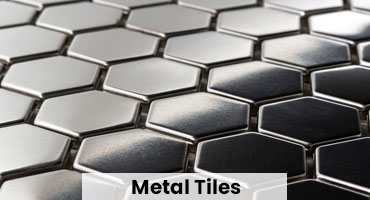 Metal Tiles used to offer very high durability and a modern kitchen aesthetic. But one of the drawbacks is that as soon as it is installed it gets scratched. As these tiles help in overall softening hence some people prefer this naturally occurring patina. If that is not one of the priority then the metal tile is not always our preference. Metal tiles can be used greatly on work surfaces such as kitchen, bar, or utility room but are not recommended for baths or outdoor use.
12. Resin Tile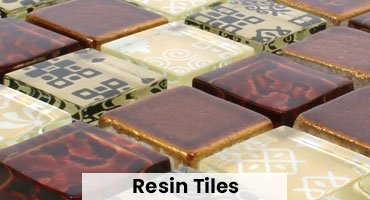 Resin Tiles are one of the great solutions to combine styles. These tiles have an attractive appearance and are water-resistant. It is easier to make a 3D patterns from these tiles which can imitate the look of water and stones. The drawback of this tile is that it gets yellow over time particularly when exposed to the sun. Such tiles are highly recommended for water areas like bathrooms and mudrooms.
TYPES OF TILES BASED ON ITS APPLICATION
1. Brick Tile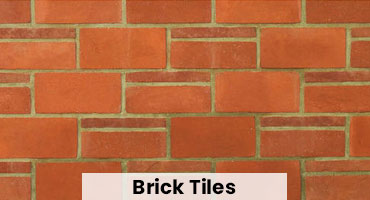 Brick tiles that are called brick slips or brick veneers are sort of a skinny silvered regular brick used as a ceramic tile. They are blocks in rectangular shape made up of clay, calcium silicate, or concrete. Bricklaying has been used for decades and bricks are more preferred than stone as a stone being more expensive when used in construction.
2. Wall Tile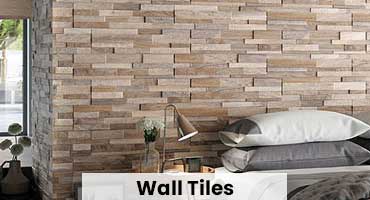 Wall tile is ceramic, porcelain, stone, or glass tile which will be put in on the wall. It is a mosaic, commonplace size tile, or giant format tile. Wall tile will have texture, patterns, or 3D style that adds interest to backsplashes, shower walls, or feature wall.
3. Floor Tile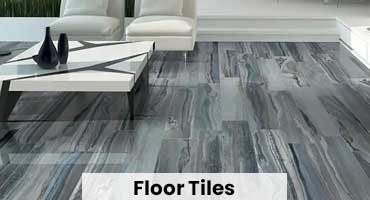 Even though ground tile notions typically recalled for adornment reasons, they really are useful in activities that aim in guarding the flooring covering every single region of your home or construction. The setup of these tiles needs to be accomplished by excess care so as to steer away from possibilities of breakage which can lead to wastage of time and cash within the space.
4. Partition Tile
Partition tiles are hollow or solid building blocks that are fabricated from gypsum and are used in a nonbearing partition which used to serve as a base for plastering.
LARGEST TILES COMPANY IN INDIA
1. Kajaria Ceramics Ltd
The Headquarter of this company is in Delhi, the brand is famous for its valued ceramic and floor tiles as well as polished and glazed glassy tiles. It is the biggest within the list of prime ten tiles companies in the Republic of India 2020. The corporate was established in the year 1985. The leading tiles company is distributed across 9 plants Sikandrabad in Uttar Pradesh, 5 plants in Gujarat, 1 at Vijayawada in Andhra Pradesh, Jaipur & Malutana in Rajasthan.
The Company showcases its tiles pan-India, through its in-depth and entrenched dealer network, providing customers with the widest selection of tiles across all value points. It's the biggest tiles company in the Republic of India by Total Sales.
2. Somany Ceramic Ltd
The company was established within the year 1969. it's the producing facility in Kadi, Kassar, and different venture plants. The corporate is unfold across the center East, Russia, Africa, India, and the UK. The leading tiles company is giving an entire vary of merchandise together with vitreous Tiles, Digital Tiles, Ceramic Wall & Floor, Glazed vitreous Tiles, bathtub Fittings, and Sanitaryware. The company has its plants in Kadi (Gujarat) and Kassar (Haryana), Republic of India, and different venture plants, generating a complete production c of sixty million sq. meters annually. It's the second-largest tiles company in the Republic of India.
3. HSIL Ltd
It was established in 1960 as Hindustan Twyfords Ltd, with a technical collaboration with Twyfords Great Britain, to introduce vitreous china sanitaryware in India. The company after that was renamed as HSIL limited in 20009. HSIL is one of the most effective brands of tile in Bharat as a way of sturdiness worries. The corporate is the most revered and leading producer within the sanitaryware section in India.
4. Johnson Tiles
The company was established within the year 1901 as a separate entity of Prism. It has around 10 producing plants unfold across Asian countries and over a thousand dealers. It has forty-nine branches and twenty-eight "House of Johnson" showrooms.
5. Grindwell Nortan Ltd
Grindwell Norton (GNO), a corporation listed in Bombay and National Stock Exchanges, pioneered the manufacture of grinding wheels in the Asian nation in 1941. It is the third best tiles company in the Asian nation by total sales.
6. Asian Granito India Ltd
Asian Granito is one of the most important makers of Ceramic tiles, shiny tiles, outside tiles, designed Marble and Quartz stone in the Asian countries.
Headquartered in Ahmedabad, Gujarat, India. It's one amongst the highest ten tiles firms in the Asian countries. It's among the highest ceramic firms in Asian countries. Established within the year 1995, the AGL has emerged as one of the most important ceramic firms in Asian countries during a short span of twenty-six years. It's India's quickest growing Ceramic Wall & Floor Tile, Glazed shiny Tiles, Polished shiny Tiles, Composite Marble and Quartz Company and among the world's fifty most profitable Ceramic tile firms.
7. Cera Ceramics Tiles Ltd
Cera Sanitaryware Limited was incorporated within the year 1980 to supply customers with an entire creator and designer results. Headquartered in Ahmedabad, the corporate manufactures floor and wall tiles, sanitaryware, faucets, wellness, room sinks, mirrors, and private care. It's among the highest tiles company in India. Currently, It is having seventy-five showrooms and quite 4000 dealers and sub-dealers. Being a pioneer in transportation and for having the most recent technology, the corporate has fastened high standards. It produces embrace glassy tiles, ceramic floor tiles, glazed glassy tiles, digital wall tiles, composite marble tiles, and quartz marble tiles.
8. Orient Bell
Founded in 1977, Orientbell is one of the leading Indian tile brands producing a variety of titles covering a large range of applications. The company has quite 2500 retailers unfold across the country with nine flagship stores referred to as Orientbell Tile Boutiques. Its production capability is getting ready to thirty million sq. meters.
9. Nitco Limited
Nitco Limited is one of the oldest tile producing corporations in the Asian nation that was established within the year 1953 by Pran Nath Talwar. The Company is headquartered in Mumbai, India. Pan India, it is having twenty-two offices. It's one of the most effective tiles makers in the Asian nations.
The company used to produce Ceramic tiles, glazed tiles, Gres ceramic ware tiles, HD digital tiles, Base tiles, Highlighters, Natural and designed marbles.
10. Simpolo Tiles
Simpolo ceramics is Morbi, Gujarat primarily based company supported in 1977, It has received the "Bhartiya Udhyog Ratna" award from Minister of State for Shipping, Govt. of India. This company is having its excellent presence not only in India but also in the international market like Taiwan, Latin America USA, UK, Kenya, Nigeria, Mauritius, Sri Lanka, Singapore and Turkey.
SUMMARY
Hence Tiles are squared measure, a style of furnishing that may be used on interior walls, ceilings and floors. Tiles are made up of both soft and hard materials. Examples of hard tiles are marble, clay, slate, metal, ceramic, stone, or glass. Generally, soft tiles are made up of wool, cork, recycled paper, and perlite. Tiles are used as both functional and decorative environments and are available in a range of styles which used to suit all budgets and tastes.