Why Tiles Maintenance is Important?
It is not a surprise that nowadays, almost all of us prefer tiles for flooring for residential or commercial purposes. It is important that tiles need to be maintained and handled properly. The reasons are simple, it not only makes your floor look elegant but also lasts a lifetime only when the tiles are kept intact. Fortunately, the tiles need low maintenance when compared to other types of flooring.
Flooring Tiles Cleaning
There are many types of tiles used for flooring. Depending on the type of floor tile, maintaining, and cleaning them varies. Not all stains require the same treatment, fresh stains and set/stubborn stains require different types of treatments. Below are Do It Yourself (DIY) tips on how to clean floor tiles that every homeowner should know
How to Clean Floor Tiles:
Ceramic Tiles Cleaning:
Clear the loose dust and other debris lying on the floor with the help of a broomstick or a vacuum cleaner. Grate over the floor for any sticky residues on the tiles. For cleaning floors, there are many floor cleaners available in the market. Use a cup of a floor cleaner for a bucket full of water. If you would like to prefer a homemade floor cleaner then you can use detergent, dish soap, lemon juice, or half a cup of vinegar with hot water. Mop the floor with the cleaning solution, followed by plain hot water. Then, allow the floor to air dry or wipe the floor with a clean dry cloth to prevent water spots on the floor.
Travertine Tiles Cleaning:
Travertine is one of the types of stone flooring extracted from the earth and then polished into tiles. Travertine is hard but porous when compared to other types of natural stone building materials. So, little extra care needs to be taken when using travertine tiles for flooring. Over time, the protective sealant coat will be ripped off leading to staining and soiling (the state of being discoloured). To avoid all such chaos, along with regular cleaning, disinfect the floor every month.
Porcelain Tiles Cleaning:
Porcelain tiles are the better option when considering maintenance as they are easier to maintain. It is due to the fact that porcelain tiles absorb less moisture that makes them stain resistant. Firstly, dust the porcelain floor. Mop the floor with warm water to clean regularly. Use mild detergent to clean the floor every couple of weeks. Then wash away the detergent on the floor and air dry the floor. Avoid using corrosive cleaning chemicals that contain ammonia as they can erode the grout and loosen the tiles. This, lead to an increase in the water absorption rate. Use gentle chemical cleaners only on the area of the stubborn stains to avoid decolourization.
Marble Tiles Cleaning:
Clear the floor to free from dust. Soak the floor with running water, then with a soft mop apply the cleaning solution or use a mild detergent. Immediately rinse and air-dry the floor with a smooth cloth to avoid water spots. For any organic stains such as food, fruit, coffee, tea spills, or lemon juice stains, it is recommended to use 12% of hydrogen peroxide or a few drops of ammonia. For oil-based stains that include cooking oil, grease use mild cleaning liquid or detergent. Sealing must be done every year, whatever may be the type of marble tile. That makes the floor, stain-resistant.
Vitrified Tiles Cleaning:
These tiles are vitrification processed tiles to have a very low porosity with less than 3% absorption rate. They are strong, stain-resistant tiles that generally don't require any sealing. Clean the loose debris on the floor. Sometimes, the floor requires regular cleaning with a soft liquid cleanser that is pH neutralized or mop the floor with warm water and dry it. For deep stains, use one cup of white vinegar in a bucket full of warm water. Air-dry the floor, and use a soft cloth to clean the water spots.
Wood Look Tile Cleaning:
Regularly clean the wood tile using a mop or vacuum cleaner. Take a half cup of cleaner to a full bucket of water. Mop the floor with the cleaning solution and quickly air dry the floor. For deep cleaning, make use of a degreaser with buffered acid. Wipe the floor with a rough cloth with extra energy using that cleaning solution, then use a floor polisher on it.
How to Clean Tile Grout:
Grout is nothing but the joint between one tile to another. Maintaining tiles also include maintaining the grout as they impact the floor look as the stained grout is similar to the filthy floor. As they are porous, they can easily absorb dirt. To clean, there are plenty of grout cleaners available in the market. One can make use of them or try a home remedy to clean grout. Make a paste of baking soda with water, apply the baking soda paste to the grout. Leave it overnight, scrub it then wash & dry it. To avoid further stains, apply a silicone-based grout sealer.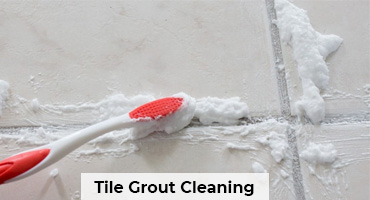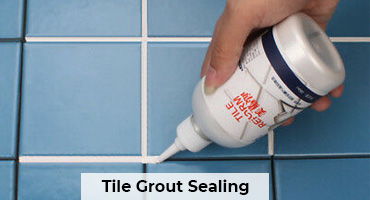 Points to Remember When Cleaning the Floor Tiles:
Using too much soap/detergent can make your floor look dull.
Make sure the mop-head is rinsed well with running water to ensure that it is free from debris before you mop.
Replace the cleaning solution bucket recurrently with a clean mop to make the floor clear from the cloudy film of dirt
Avoid using harsh chemicals for cleaning
Always test in a small, concealed area before using any of the methods for cleaning floors
Placing non-slip mats/rugs around entrances to avoid unnecessary stains on the floor
Sealing must be done at regular interval of times for better life expectancy
Avoid using bleach or acid products for regular use. Regularly using such products may damage the grout between the tiles.
Keep the foot traffic away from the wet floor till it properly dries up just to avoid footprints on the cleaned floor